Selecting a Hockey Helmet
Helmet, lid, bucket – whatever you want to call it, all organized and sanctioned hockey these days requires a helmet to play the game. And for good reason: it protects the brains of the operation.
Helmets protect you both from impact with another player and impact with surface, boards, net and other equipment during the game. Hockey helmets are made up of three main components:
● The Shell: the hard exterior of the helmet, routinely made up of a mix of lightweight and durable plastics, or - more commonly in newer helmets - vinyl nitrile. In most cases, this area of the helmet that can be adjusted for fit.
● The Padding: specialized foams and materials designed by the manufacturer to minimize and disperse impact, usually placed strategically in specific areas of the helmet considered to be key impact areas. (Examples would be XRD foam in Bauer and D30 foam in CCM helmets.)
● The Liner: the inner material of the helmet that will make contact with the head. There is a range of different foams, gels, and padding used in helmet liners from model to model. Liner and padding used to be synonymous, as the interior foam padding of older or "classic" helmets was shaped in such a way as to double as the liner. However, newer helmets will have the padding strategically placed for impact protection and dispersion, while the liner is meant to provide comfort, air flow, and a secure fit.
Once you know the parts and what they do, you can start your search for the helmet best suited for you and your game. Choosing a helmet that is right for you will come down to many factors (and personal preference!), but Fit, Safety, and Comfort are the three design features I encourage every player to consider.
Hockey Helmet Fit
Fit is listed first because the general consensus is that you cannot receive the benefits and protection of a helmet if it does not fit properly on your head. A helmet should fit snugly on the head without being too tight, and should not "move freely" when you move your head in any direction. It is also important to consider the shape of your head when selecting a helmet, as many helmets are designed for specific head shapes. Some will be more oval shaped, while others may be rounder to provide more room from temple to temple. Most popular brands will have shell adjustment for size. Helmets should be adjusted to provide slight friction on the forehead without pulling the skin. The helmet should be able to cover the brow of the head, allowing the helmet to settle low enough for proper ear guard and temple alignment.
Hockey Helmet Safety
Safety is always a concern and even more so in contact sports. USA Hockey recommends all adults wear an HECC approved helmet and requires all minors at all levels to wear HECC approved helmets with full face protection attached. Adults in hockey organized under USA Hockey guidelines are still required to wear a helmet, even if it is not certified.
The HECC is an independent volunteer organization that has overseen the standards and test methods for safety validations over the past 40 years. This certification can be found on the back of the helmet also provided with an expiration date.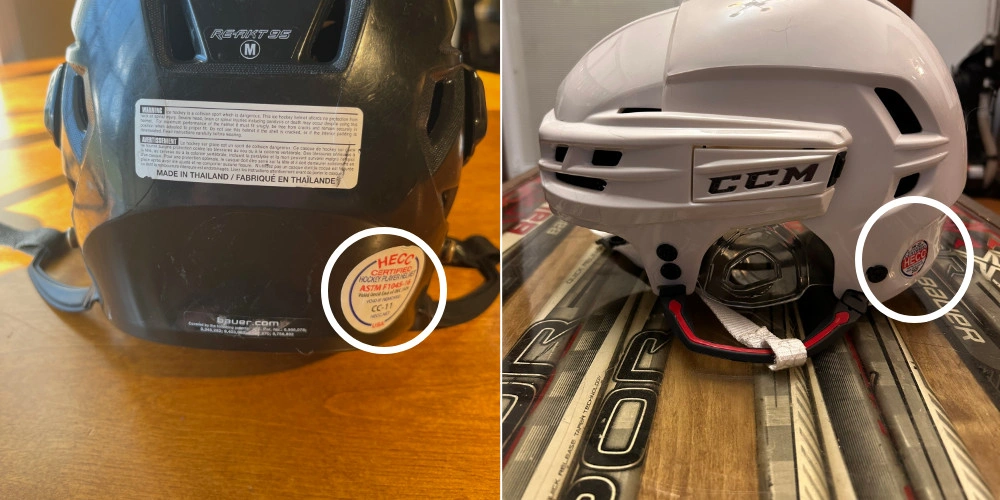 The expiration date is typically 7 years post-manufacture – although your helmet may not show any physical signs of wear and tear, it will no longer be recognized as certified and valid for organized hockey.
Once you've sussed out expiration date, identify whether the manufacturer is using impact foam inside the helmet. These proprietary pads are designed to better withstand low and high velocity impacts at high volume areas of the helmet. They can often be identified by color - yellow for XRD and orange for D30 - but be sure to read the specification of the helmet available.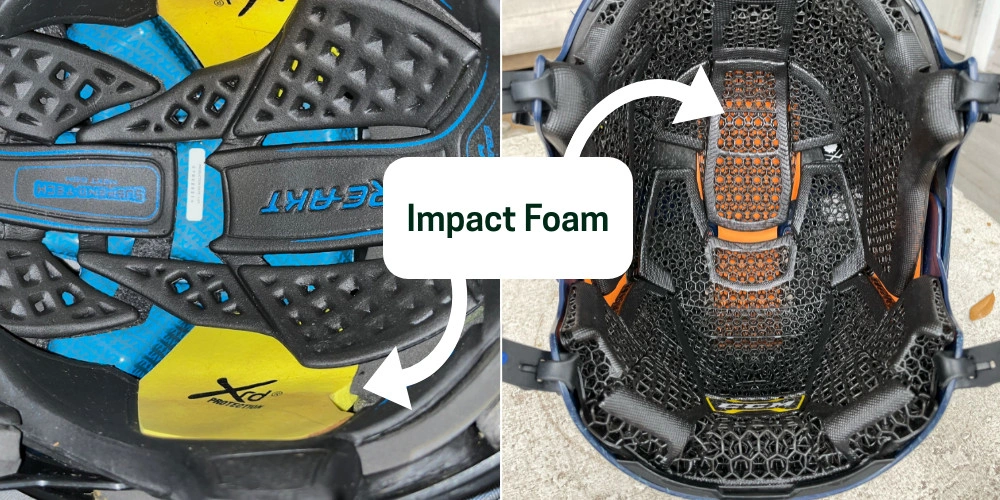 As we learn more about preventing concussions, and governing bodies scramble to develop protocols to prevent players, it is important to remember that no helmet is concussion-proof.
Hockey Helmet Comfort
How the helmet fits on your head and makes you feel is important too. When fitting a helmet, make sure the crown of your head rests comfortably against the liner at the top of the helmet and does not fall too far down the face to cover or push down your eyebrows. Temple pressure is often a good indicator as to whether you have the right-shaped helmet. Most major companies will offer comfort padding in their liners at higher price points. The benefits are real, but remember: more comfort does not necessarily mean more protection!
Almost all helmets can be affixed with face protection – most commonly, wire cages, full shield visors, half shield visors, or hybrid visors with attached cage. For minors playing under USA Hockey guidelines, it's actually required.
Wire cages come in sizes ranging from XS - XL. Although in many cases the helmet size and cage size may match, it is important to choose a cage that fits the size and length of the face. The chin cup should settle properly under the chin, not on top of the face – nor should it hover too far off the chin without making contact.
Half visors are most commonly one size fits most. Full visors come in Jr and Sr. Jr is recommended for XS and S helmets while SR is recommended for M and up.
Hybrid cages will size the same as wire cages. Full face protection can also provide extra stability and comfort to the helmet, making it important to find the model right for your game.
It is important to remember that the best helmet is one that fits, and higher cost does not always equate to more protection. But these considerations - fit, safety, and comfort - will help kickstart your journey to finding the right helmet.