Best Batting Helmets of 2023
Remaining safe in the batter's box should be the first priority for any prospective baseball player—especially when it comes to protecting the head and face. Luckily, baseball equipment companies have been making high quality youth and adult batting helmets for decades now that do a fantastic job of providing complete protection at the plate. However, one can never be too careful, and having peace of mind while hitting is paramount if one is to expect success. That's why I always recommend for people to do their due research on the market's top notch batting helmets. The last thing anybody wants to worry about when hitting is their safety.
Easton Z5 2.0 Batting Helmet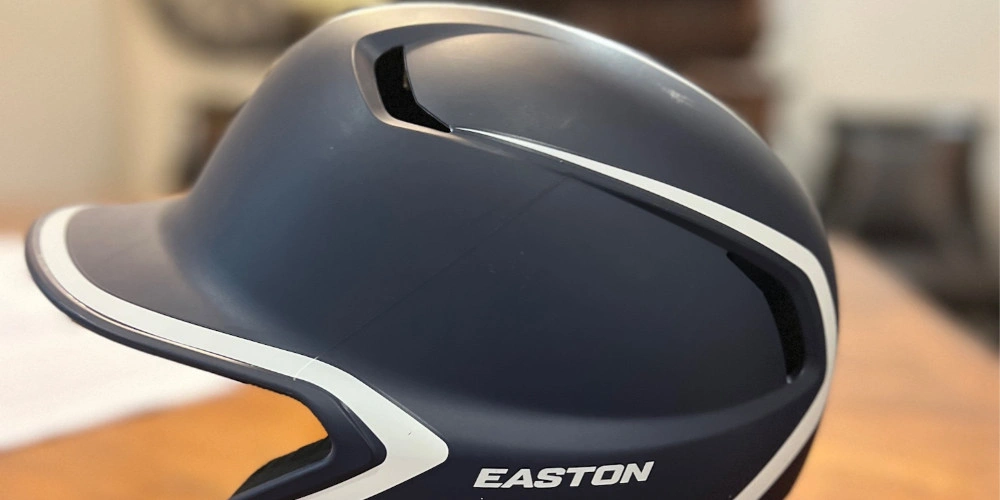 The Easton Z5 2.0 batting helmet features a high-impact resistant ABS thermoplastic shell has been engineered for maximum protection, while the padded dual-density foam liner works to absorb shock on impact. The Z5 2.0's padding features a BioDri inner liner to keep players dry and cool, and the wrapped ear pads add extra comfort plus prevent wear and tear throughout the season. In addition, this batting helmet meets the NOCSAE standard for all levels of play, is available in Senior and Junior sizes, and can come with a universal jaw guard for an extra $10. The Easton Z5 2.0 batting helmet is currently retailing for $49.95, but can be found on SidelineSwap for as low as $18.
Our Expert's Take:
Easton is the industry standard when it comes to high quality batting helmets—and this new and improved Z5 2.0 model is their strongest offering. A favorite for kids playing in the Little League World Series, customers rave about this helmet's combination of comfort, protection, and a cool look. The BioDri inner liner makes for an extremely comfortable fit, helps keep these helmets from getting too stinky, and the universal jaw guard that's an additional option to purchase is very easy to take on and off. Easton also provides a wide variety of colors in a sweet matte look. If you're looking for the best batting helmet out there for both youth and adults, this Easton Z5 2.0 helmet should satisfy.
Rawlings CoolFlo Batting Helmet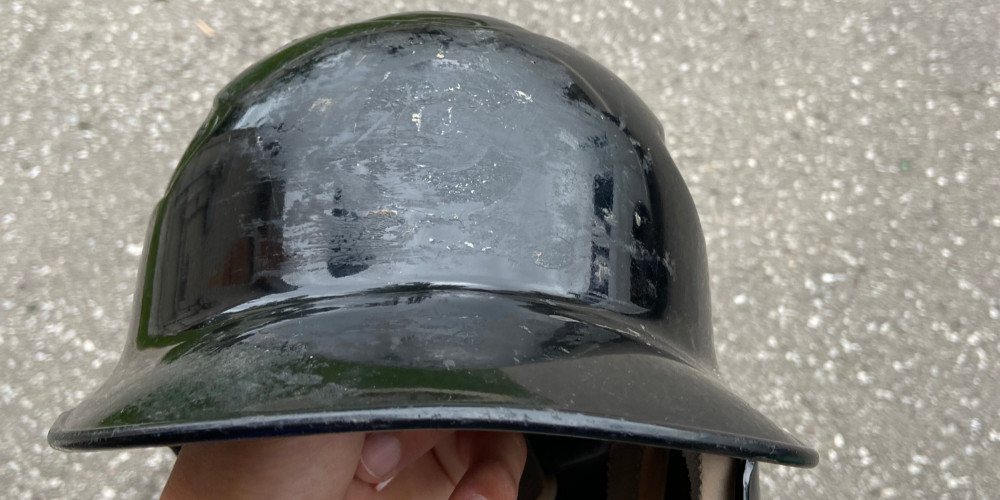 Rawlings' CoolFlo batting helmet has an outer shell made of high-quality ABS plastic that saves you from getting hurt due to the impact of a throw. The inner layer is built with a CoolFlo venting system that offers breathability and cooling comfort, along with foam lining that dampens vibrations and absorbs shock from the blow. It also contains a proper ear and jaw guard that protects you from hits and provides extreme comfort. This CoolFlo batting helmet meets NOCSAE standards, is available in multiple different colors in two sizes, and is currently retailing for $49.99, but can be found for as low as $30 on SidelineSwap.
Our Expert's Take:
If Easton's Z5 2.0 batting helmet is what many players in the Little League World Series used, this Rawlings CoolFlo batting helmet is what you'll see players wearing in the MLB World Series. Rawlings is "The Official Batting Helmet of Major League Baseball", and this CoolFlo helmet is their best offering by far. The state-of-the-art CoolFlo ventilation system in this helmet made waves in the baseball world when it was first released in 2006, and Rawlings has only improved on that ever since. That technology will provide maximum breathability and comfort up at the plate and on the bases. This helmet also can come with a faceguard attachment for youth players. Rawlings takes their on-field protection seriously, and this CoolFlo batting helmet is a prime example of that commitment to excellence.
Boombah DEFCON Batting Helmet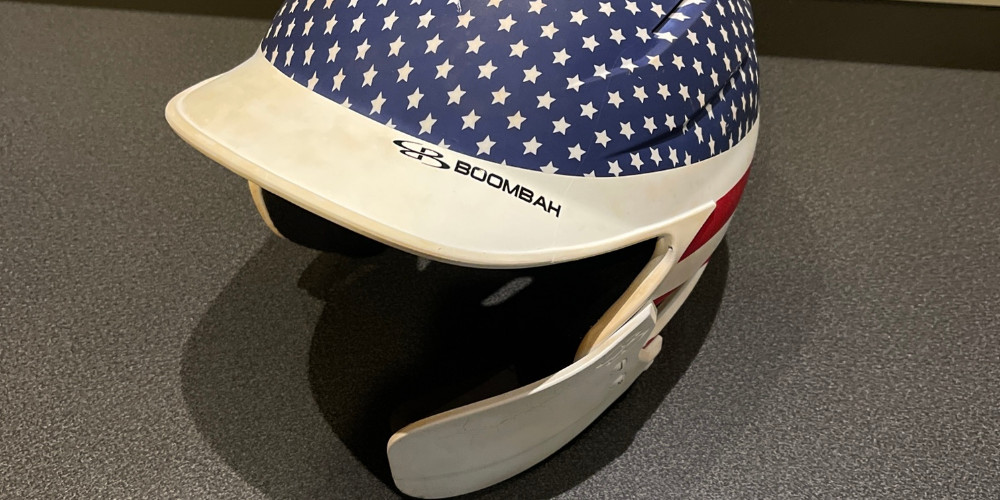 Boombah's DEFCON batting helmet features a lightweight, high impact ABS shell alongside a dual density padding system that works as a protective shield against high-impact hits and also provides you phenomenal comfort. In addition, Boombah's top notch venting system is designed to provide maximum airflow inside the helmet, combined with a moisture wicking liner to stop sweat from staying around. This DEFCON batting helmet is certified to meet NOCSAE standard offered in Junior and Senior sizing, plus it comes in 38 different colorways. It is currently retailing for $54.99, but can be found on SidelineSwap for $35.
Our Expert's Take:
Although I've never put this helmet on, it's still my personal favorite. Not only is Boombah the coolest company name I've ever heard, but this batting helmet is the most aesthetically pleasing, as well. It has similar grooves that you see on modern football helmets, and the fact that it comes in 38 different colorways is astounding. Not to mention that it weights under 1.5 pounds, which makes it one of the lightest batting helmets on the market. And in terms of protection, this Boombah DEFCON helmet can match that of any other. Someone even told me that they were once hit on the head with a baseball by accident while baserunning, and they thought the impact they felt was from an acorn falling from a tree. Don't attempt to recreate that, though—just take my word that this is one of the best batting helmets money can buy.
Mizuno B6 Batting Helmet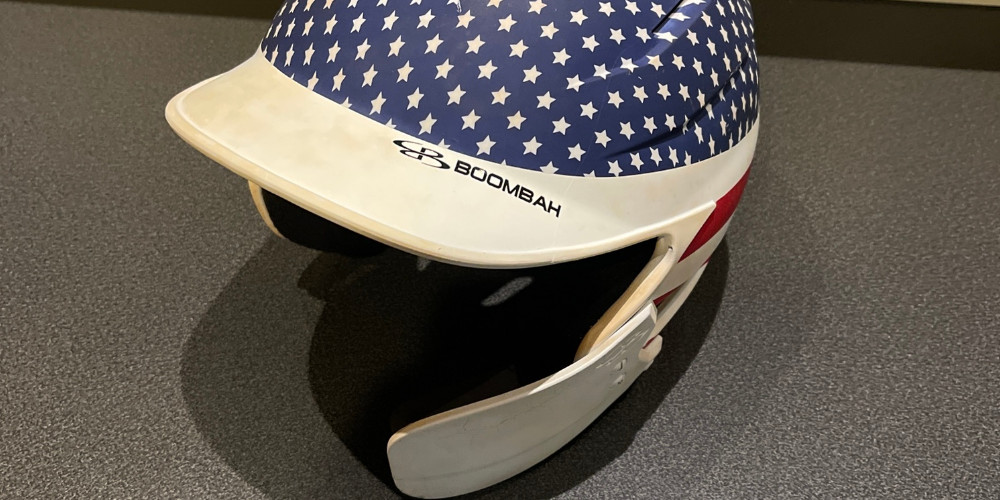 The Mizuno B6 Batting Helmet is constructed with a durable ABS plastic shell and an EVA Foam inner core for superior protection and interior comfort. Drylite liner helps control sweat and any other form of moisture. This B6 batting helmet comes with pre-marked hole locations for mask placement, is available in an array of colors with a solid matte finish, and meets NOCSAE standards. It is available in multiple different sizes, as well, and is currently retailing for $60, but can be found on SidelineSwap for as low as $45.
Our Expert's Take:
Mizuno makes many things extremely well—and this B6 batting helmet is no exception. Although I noted how light the Boombah DEFCON helmet is, this B6 offering is almost a half-pound lighter than that, which must make it the lightest batting helmet on the market. But just because it's lightweight doesn't mean that it sacrifices protection. This helmet is very strong and can protect you from any head damage after getting hit by a pitch, regardless of how hard the pitcher is throwing. The one clear downside to this batting helmet is that it doesn't offer an option for a jaw/face guard. But if that doesn't bother you, then this Mizuno B6 helmet should be at the top of your to-buy list.
EvoShield XVT Batting Helmet
The EvoShield XVT batting helmet gives you the perfect combination of protection and comfort. A dual density padding makes for sleek, compression molded pads and fully wrapped ear pads, a low profile shell allows for a superior fit, and a strategically engineered venting system is designed for increased airflow and breathability to keep you cool in high-pressure moments. This EvoShield XVT batting helmet comes in four different sizes, six different colorways, and meets NOCSAE standards. It is currently retailing for $44.99, but many different sizes and colorways can be found for between $20-$30 on SidelineSwap.
Our Expert's Take:
EvoShield is famous for its high quality protective baseball equipment, and this helmet is one of its best products. The low profile shell makes for a unique and cool look while also making for a fantastic fit on the head. And while EvoShield boasts about its dual density padding, that doesn't mean that the padding feels especially dense or heavy. EvoShield also offers their own face guards, but I've heard that most other companies' face guards will fit on this helmet, too. This is going to be one of the heavier batting helmets that you'll come across, but you really can't go wrong with EvoShield anything if you're seeking protection at the plate. This batting helmet will not disappoint.
Conclusion
Hitters shouldn't have to sacrifice anything when it comes to safety while hitting. And with these five state-of-the-art batting helmets that provide a combination of comfort, durability, and an awesome look, they definitely won't have to.