The 6 Best Softball Gloves For 2023
Whether you are a seasoned softball player or a beginner, you know there are many things that come into play when purchasing a new glove. Since players have different needs, you will find a wide variety of choices in softball gloves each of which is jam-packed full of all the latest glove tech. With this in mind, here is our countdown of the 6 best softball gloves for 2023.


Starting off at number 6 is the Louisville Slugger Zephyr.
The Louisville Slugger Zephyr softball glove features everything you need and nothing you don't. Designed with the help of some top-notch players, the Zephyr has been carefully designed to give a big and deep pocket for a quick transfer. Additionally, Bruise-gard™ padding saves your hand from hard contact, while Louisville Slugger's special Dome-Trap web makes the glove easy to close. Together they make for a perfect game after game.


Coming in at number 5 we've got the Easton Ghost.
The Easton Ghost is a softball glove that's designed for softball players looking for a reliable glove when stepping up to the plate. It's constructed with Fused silicone LYCRA® backs together with Neoprene wrist straps for a secure fit, and features such as the one-finger strap that allows players to easily adjust the glove without wasting a second.


At number 4 we've got the Rawlings Liberty Advanced.
With a Dome-Trap web for long-lasting a big and deep pocket and Poron XRD™ palm padding that gives a unique and impact protection, the Liberty Advanced is specially made to meet the needs of advanced softball players for which a big and deep pocket and impact protection are must-haves.


Next in our countdown is a glove carefully engineered for players in search of consistent control and minimized break-in time: the Mizuno MVP Prime.
Built for softball elite softball players, the MVP Prime is loaded with all of Mizuno's game-winning technologies. With Bio Soft Leather that is exceptionally durable and contours to your hand, this glove gives you consistent and controlled performance day in and day out. An optimized pocket design reduces break-time from weeks to days, and a softer Flexalite Palm Lining provides superior comfort, making this one of the most popular gloves on the market.


Next up at number 2 is the Rawlings Heart of The Hide.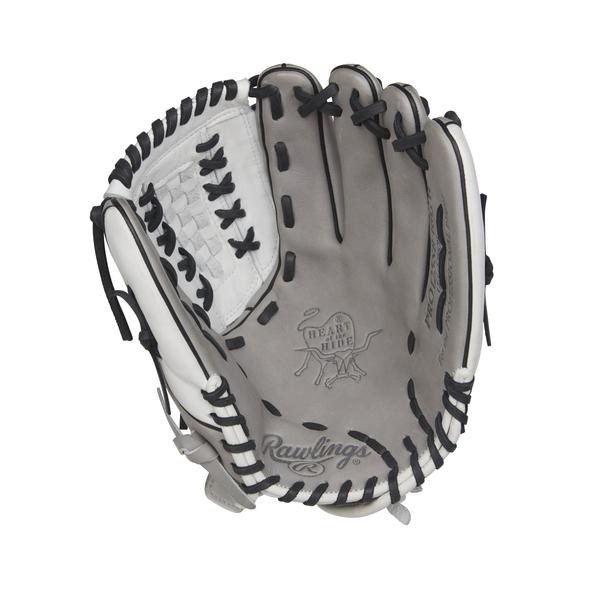 The Heart of The Hide is a softball glove that is built to keep on ticking. One of Rawlings' timeless classics, this glove is crafted from the highest quality, 100% full-grain leather and ZeroShock™ palm padding, to deliver softer performance and an all-day feel. Softball players can experience a wide range of benefits including maximum control thanks to the grip-friendly texture, greater durability, and flexibility thanks to the full-grain leather shell, and improved touch and comfort due to ZeroShock™ technology. Overall, the Heart of The Hide is constructed to take on the sport's most rebellious pitches to help you reach new levels of performance.


Finally, rounding out our list is the Wilson A2000: a glove precisely made for players seeking shock absorption and rugged durability.
The A2000 is a game-ready, pro-athlete glove built to meet the demands of softball players at any level. This well-known favorite is made with game-ready Pro Stock® Select leather for rugged durability and DRI-LEX® technology for easier moisture-wicking breathability. A slimmer, more refined fit decreases bulk and promotes a quick release, while our padded palm liner adds padding for comfort and protection. This top-notch glove also features a lace attachment to help secure it into your throwing hand for a trustworthy fit.



Subscribe to SidelineSwap Blog
Get the latest posts delivered right to your inbox.