The 6 Best Hockey Skates for 2021
Hockey skates have come a long way, and these days, there is a model available to match any type of playing style. As you would expect, the technology (and cost) has certainly advanced with it. With new innovations such as boot ventilation and weight-saving material, it seems that hockey skates are continuing to improve exponentially year after year. Here we've listed what we believe are the best hockey skates for 2021.


Starting off at number 6 is the Bauer Vapor 2X.
The Vapor 2X skate is designed to give elite players a competitive advantage in the game. Featuring an ACCELFLEX boot that provides game-winning, comprehensive protection alongside an AeroFoam+ padding liner that provides moisture-wicking breathability, the Vapor 2X's sleek and stylish design is specifically built to meet the needs of elite-level hockey players.


Up next is the CCM AS3 Pro: a skate skillfully made for players seeking wicked acceleration.
The CCM AS3 Pro hockey skate is designed for players seeking wicked acceleration and explosive power. It's built with a one-piece carbon composite MonoFrame boot to give players a stiff boot platform for more direct energy transfer to the ice. The anatomical form fitting support liner offers comfort and stability during rapid acceleration, deceleration, and quick changes in direction.


Next up is a skate precisely designed for players who want play-making agility: the CCM Ribcor 80K.
With quickness that gives you play-making agility, the CCM Ribcor 80K hockey skate is designed for the player who wants to turn on a dime. Built with a 3-D lasted composite FlexFrame boot for better performance and a TotalDri Pro+ liner that improves feel, the Ribcor 80K comes with tried and tested CCM technologies that have made them leaders in the hockey industry.


The Bauer Vapor 2X Pro is a skate that delivers excellent quickness and play-making agility.
Bauer's Vapor 2X Pro hockey skate is an excellent choice for the player who wants to keep moving and without being restricted by awkward blade tech. The DYNAFLEX boot provides lightweight durability, while the Lock-Fit Pro liner creates a secure, comfortable fit around your ankle. Whether you're streaking down the ice or setting up your teammates with dazzling passes, the Vapor 2X Pro provides elite-level performance.


Next up is a skate precisely tailored for players in need of explosive, game-winning speed: the CCM JetSpeed FT2.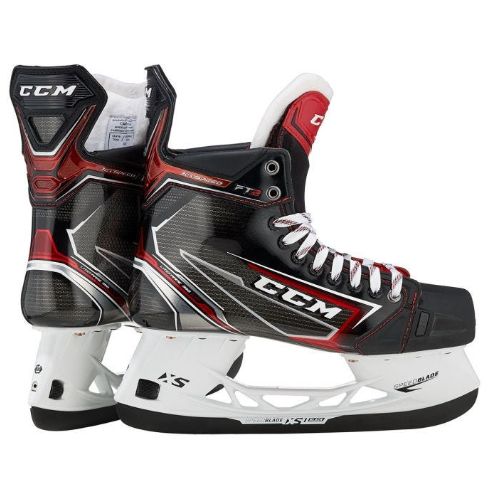 Like a finely tuned hand-crafted machine, CCM JetSpeed FT2 hockey skates are lighter, faster and designed to take you to the pro level. The sleek boot design of the JetSpeed FT2 hockey skate is built for speed and precision. With an ultra-lightweight design, TotalDri Pro+ liner and Liteframe 360 Evo, this skate will make you feel like you're wearing a pair of running shoes.


Finally, rounding out our list at number 1, the Bauer Supreme 2S Pro is the perfect blend of comfort, durability and performance.
With a fully customizable boot for lightweight durability and a Lock-Fit Pro liner that prevents any slipping or movement inside the skate, the 2S Pro provides extra comfort and performance for those long nights of play or practice. At the end of the day, the Supreme 2S Pro offers paramount performance making for a precision glide on every stride.


Which Skate Will You Choose?
So, which skate will you choose for the next hockey season? We hope this countdown helped to narrow down your list to find the best looking, highest performing skate that'll power you for seasons to come!
Looking for something a little different? We've got you covered. In addition to the slick skates we've featured here, SidelineSwap has a wide variety of different skates for all sorts of player preferences. Be sure to check out all our hockey player skates here!
Subscribe to SidelineSwap Blog
Get the latest posts delivered right to your inbox.