The 5 Best CCM Hockey Gloves For 2023
CCM Hockey has long been a name synonymous with hockey. For decades they have been a top brand that amateur and professional players alike have turned to when it comes to their hockey stick collection. Along with making some of the finest sticks, CCM also has a reputation for producing some of best gloves as well.
If you want to ensure that your hands are protected from any stray pucks or flailing sticks while on the ice, then it is essential that you look into buying some quality CCM hockey gloves. Whether you're playing casually or taking part in a competitive game, the right hockey gloves can make all the difference. With that in mind, here is our list of the 5 Best CCM Hockey Gloves for 2023 that has been curated by our SidelineSwap Gear Experts to help you hone in on your next pair of CCM hockey gloves.


Up first is the CCM Pro Model: a glove skillfully made for players seeking enhanced freedom of movement and a high level of protection.
The CCM Pro Model provides elite-level hockey players with the comfort, protection, and performance that they've come to expect from CCM. As one of the most popular CCM hockey gloves on the market, this high-quality glove is designed for maximum freedom of movement while still maintaining a comfortable fit. With an 84 flex fit technology, this glove features segmented cuffs that allow you to move your hand around more freely than ever before enabling you to make quick shots in a variety of situations whether in heavy traffic or on a breakaway.


At number 4 we've got the CCM Tacks 4 Roll.
Whether you're a power forward moving at high speeds or a defender setting the pace with intelligent positioning, the CCM Tacks 4 Roll was built to meet the needs of today's players. The single density foam offers long-lasting protection while the lightweight construction and PE regular thumb give superior protection to help you maintain possession and offensive pressure. Overall, the Tacks 4 Roll provides great protection all-around and especially on the top of the hand.


Next in our countdown is a glove carefully engineered for players in search of a high level of protection and enhanced freedom of movement: the CCM Tacks 4 Roll Pro.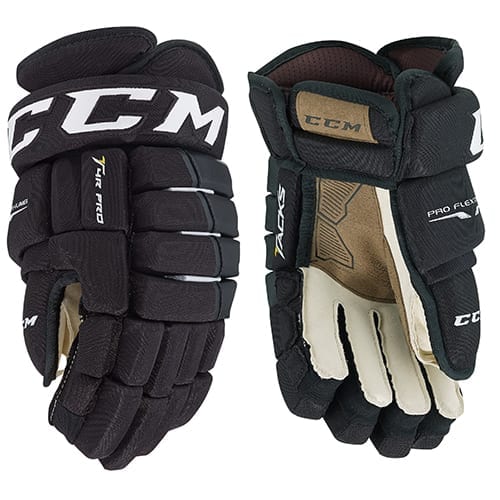 The CCM Tacks 4 Roll Pro is, as you might be able to guess, the pro-level version of the Tacks 4 Roll. What sets the Tacks 4 Roll Pro apart? Well for starters the pro model features a single density foam for long-lasting, lightweight construction and a PE thumb that gives both dexterity and superior protection.


The CCM Super Tacks is a glove that ensures enhanced durability and enhanced freedom of movement.
Forged using cutting-edge technology, CCM's Super Tacks gloves are meticulously designed to outplay and outlast the competition. They provide a truly lightweight feel while offering maximum performance on the ice.
Designed with a pre-selected polyester construction that allows for an exceptionally lightweight feel in addition to its NHL Clarino reinforced palm, which offers improved durability, the Super Tacks will let you look cool and feel comfortable, all while knowing your hands are protected.


Finally, rounding out our list at number 1 we've got the CCM Jetspeed FT1.
The CCM Jetspeed FT1 Hockey Glove is a glove made for players seeking excellent mobility and breathability. Expertly crafted with D3O, Zotefoam construction for increased a high level of protection in conjunction with a Pro Flexthumb for more superb mobility, the Jetspeed FT1 is the latest in a long-line of trustworthy, innovative CCM hockey gloves that will help up your stickhandling and shooting, all while ensuring lightweight protection.



Subscribe to SidelineSwap Blog
Get the latest posts delivered right to your inbox.