by Derek Worlow
With a roster of All-Star players endorsing Wilson baseball gloves, it is no coincidence that the company's gloves are the official gloves of Major League Baseball. With a history that dates back to baseball's heyday in the 1950's, Wilson has been at the forefront of creating gloves that perform at the highest level of the sport. Here are Wilson's gloves of the month so far in 2018.
January
This fan-designed model is created with Pro Stock leather and is tri-colored for a sharp look.
With its 11.5-inch reach, this is a perfect glove for the middle infielder looking for better performance on those tough grounders up the middle. The Chevron Cross Web design helps with transferring the ball to your throwing hand with quickness and efficiency.
February
The February glove of the month is a sleek white and teal colored A2000. With the H-Web system installed for a deep pocket that will hold onto any line drive, this A2000 is an 11.5-inch model that is an excellent option for the infielder looking to improve his performance on the diamond.
Constructed with Wilson's durable Pro Stock leather, this A2000 will hold its shape long after its initial break-in period. With Pro laces that keep the glove tight during intense defensive situations, this A2000 is a winner.
March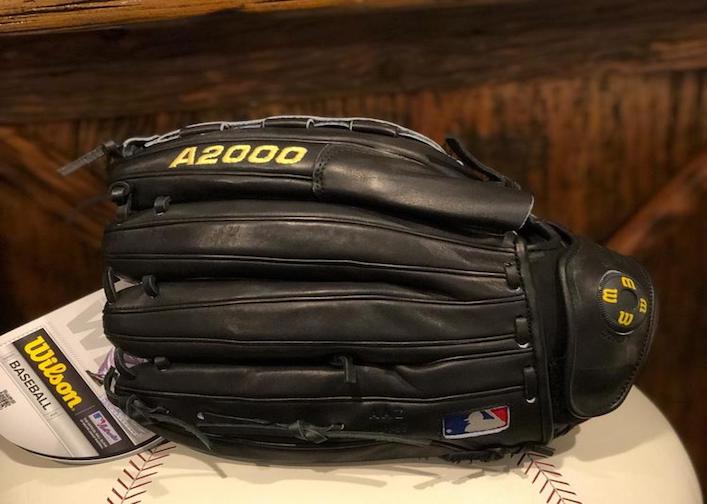 Greg Maddux won a record 18 Gold Gloves during his storied career as a pitcher, and this A2000 model celebrates his run of defensive excellence. March's glove of the month is a throwback to Maddux's days using an A2000 to make those spectacular plays fielding off the mound.
With the patented Dial Fit System, this A2000 compliments the Pro Stock leather shell with a sleek black look for a glove that performs in all game day situations.
April
April's glove of the month is an 11.75-inch model with an H-Web system that is perfect for players who like a more extended reach with their mitt. This black and blonde A2000 utilizes a new gap welting technology that keeps the pocket flat for quicker transfer of the baseball to the hand.
Wilson's ultra-breathable wrist lining on this A2000 keeps the wrist and hand dry for maximum feel and comfort. Another great feature of this model is that the back of each finger of the glove gets two strips of leather for durability and to lessen daily wear and tear.
May
Mark Melancon has been one of the elite closers in Major League Baseball for the past several seasons. The May glove of the month is his customized version of the A2000.
This model has a Pro Laced T Web system creating a shallow and dependable pocket for getting baseballs out quickly. The blonde Pro Stock leather compliments the tan lacing for a stylish appearance. Mark's A2000 also includes a finger pocket to protect the index finger on his glove hand.